Journey with An Unseen Guide
"A faint voice began to suggest that I was near the end of a long journey a journey I hadn't even realized I was on."
I'm fifty-one years old, and I live at the Saranagati Hare Krishna community in British Columbia, Canada. I love life here. I love the snow.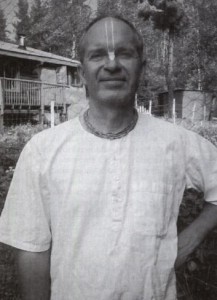 I love long summer evenings. I love having devotees for neighbors. I love fresh muffins cooked in a wood stove. I love big gardens. And I love the fragrant yellow aspen leaves when they dance against the blue September sky.
As a bearded student living in Seattle in the '70s, I did not envision my present life. Yet looking back, I can now see that Krishna was always preparing the way, step by step, so that I could eventually find the shelter of His lotus feet.
My "how I became a devotee" story begins at a smoke-filled college party.
A biofeedback psychology student was boasting of his upcoming trek. He and a few others were going to spend Christmas break in South America. They were going to ceremoniously honor the arrival of the comet Kohoutek. "The greatest sky show ever" was supposedly the harbinger of the new age of enlightenment. I was surprised by the confidence of the braggart, and I was intrigued by the notion of a new age. A voice within persuaded me to make my own journey to South America. I too wanted to witness a cosmic spectacle, to be part of something great.
I bought a round-trip bus ticket from Seattle to Miami and a plane ticket from Miami to Bogotá, Colombia. In Colombia I took a taxi to the highest mountain in sight and camped out near the feet of a gigantic white Jesus statue. During my seven days in Colombia I saw nothing.
I encountered estranged young Americans strung out on cocaine living in cheap hotels in Bogotá, I ate what must have been dog meat, but I did not see the comet, not even a glimmer. Hungry and disappointed, I began the long journey home.
The "Curse Naw" Book
During the four-day return bus ride from Miami to Seattle, my neck became rubbery and I neither slept nor stayed awake. In St. Louis on Christmas day, in this altered state of bus-induced trance, we passengers were given a thirty-minute lunch break. I meandered to the nearby Jefferson Memorial. While I stood shivering, a friendly fellow my age introduced himself. He talked fast and kept shaking my hand while I looked at his ragged stocking cap. He convinced me to give him $5 for an oversized silvery book called Krishna (which I thought was pronounced "Curse Naw"). Back on the bus I read a few lines in the book and closed it forever.
My spiritual quest might have ended in St. Louis were it not for a springtime event at our college gymnasium. Baba Ram Das spoke and chanted to a packed audience. After I excitedly bought his book, my inner voice convinced me to spend the summer in Boulder, Colorado. Baba Ram Dasa and other prominent spiritual personalities of the day were offering a full schedule of enlightenment courses at Boulder's Naropa Institute.
My first personal real-life encounter with Baba Ram Das occurred when he physically brushed me, a sincere seeker and admirer, aside while two attractive young women affectionately escorted him to pick up his mail. I became disillusioned not only with Baba Ram Das but in some way or other with every spiritual teacher there. The best of them seemed to be the Buddhist Rimpoche, who wasn't rude or conceited but who was painfully boring. I dropped out of the institute and finished the summer washing dishes at a country club restaurant.
During the following year's winter break, my friend Bert and I were hired to do every manner of menial task at a ski resort near Seattle. In exchange we received free lodging in an old A-frame ski chalet, free food, and some wages. Bert quickly found a girlfriend and moved out of the A-frame, leaving me there alone with two Back to Godhead magazines. On the evening before leaving for the ski resort job, I had gone out on a stroll on University Avenue. "The Ave" was dark, cold, and eerily empty except for a group of chanters draped in robes of different muted colors. On a busy day I would have crossed the street to avoid them, but this time I had merely walked by, pretending to be absorbed in my own thoughts.
A young man with round features and an earnest voice had abruptly put the two magazines into my hand. When he had asked for a donation, I tried to give the magazines back, but he refused to accept them.
"Will you read them?" he'd asked.
I considered for a moment and told him I probably would. They were mine.
Now on my one day off during a three-week work shift, with no Bert, isolated and bored, I looked through the magazines with no particular interest. Out of curiosity I tried saying the recommended chant. Nothing happened. I said it a few more times. Still nothing. I was looking forward to getting back to school.
Kahlil Gibran Reincarnated?
Shortly after winter break my inner voice urged me to enroll in some evening hatha yoga classes. My yoga instructor, Bob Smith, was gentle, kind, and helpful. Under his tutelage I became not only agile but also less inclined to eat meat. I became attached to him as a spiritual mentor. One evening, however, Bob suddenly announced that in meditation he had discovered his previous life's identity: He had formerly been the well-know esoteric writer Kahlil Gibran. Now he would cancel all future yoga courses to better understand the significance of that revelation. I felt spiritually abandoned, and although I liked Kahlil Gibran's books, I had some doubts about Bob's insights.
About this same time, my old high school friend Ron inherited his deceased grandmother's house in Seattle's university district. Ron wanted to have roomers, and I needed a cheap place to live. The room Ron offered me was empty and bare except for one small dresser. The dresser itself was also empty and bare except that one drawer contained a brand new Bhagavad-gita As It Is. Ron had given $5 to a persuasive guy at the airport in exchange for a book he didn't want. One evening I opened the book and stared at a page, reading the same words over and over again. I felt enveloped by peace and light while the world outside zoomed in circles. The book was bright and clear. I felt I'd attained the nirvana mentioned by Bob in the yoga classes. After that I regularly visited the book to experience the mystical purity. I don't recall the meaning of the words, but I began to crave the spiritual sensation.
Shortly after my first brush with enlightenment, I had an experience that convinced me to give up all forms of intoxication forever. Ron and I and another friend decided to make a day trek to the remote and wild stretches of the Skykomish River. High in the Cascade Mountains, the river pounds and splashes its way through steep forests. Our plan was to take some LSD and spend the day with nature. Soon after we took it, my two friends were giggling and walking around. I, on the other hand, became horror struck.
My mind's eye filled with the visage of two horrible and ugly creatures. They seemed to be taunting me, waiting for me to fall to my death in the gushing river. I was not prepared for the shocking event. Panic and fear consumed me. In desperation, with wide eyes and complete earnestness, I pleaded and bargained with God. If He saved me, I would never take drugs again. I survived.
Life was different without drugs. Aimless walking became my preoccupation. I would regularly walk from one end of Seattle to the other three or four hours, sometimes six or more including breaks. It was on one of these epic foot voyages that I met a girl standing in front of a grocery store. She was bundled against the cold and huddled over a glass gallon jar. She said something, and I put a quarter in her jug. From under her shawl she pulled out a card, handed it to me, and invited me to a "love feast." As I held the card, I realized that she was connected with the people who had given me the two magazines, the same people who had sold me the "Curse Naw" book and had sold Ron the Bhagavad-gita that I had since claimed as my own. A faint voice began to suggest that I was near the end of a long journey a journey I hadn't even realized I was on.
The walk from Ron's to the love feast was less than two hours. For the first time in my life, I overate. More than Thanksgiving or Christmas. Even after walking all the way home, I was so happily stuffed with food that at night I had recurring dreams of halava.
I knew something was happening, but I couldn't piece it together until I was riding a city bus home from school. I had brought a small version of the Krishna book with me to pass time during the commute. It was a gift from the love feast. While reading the book, I suddenly became dumbstruck. "Krishna, the Supreme Personality of Godhead." I kept repeating the phrase over and over and over again. "That's it! That's it! Now I get it! Krishna is the Supreme Personality of Godhead. I get it! I believe it!"
When I got off the bus, I felt so uncontrollably elated that I danced in the street.
Without explaining much to people I knew wouldn't understand, I sold my record collection to the used-book store, gave my Chevy II station wagon to Ron in exchange for the rent I never paid, and walked across town to the temple. I was finally home.
Even on the first night as a temple resident, while sleeping on the warm and fragrant wooden floor I knew I would never leave.
Twenty-eight years later, listening to the leaves, seeing the garden, feeling the breeze, surrounded by good neighbors, I am humbled. God has been good to me. Life as Krishna's servant is as wonderful as I had expected, and I sense that the future is probably even better.