How I came to Krishna consiousness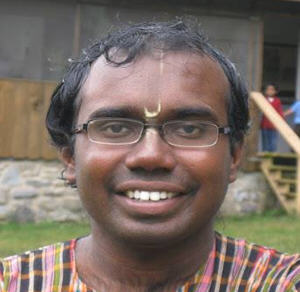 Hare Krishna to all Devotees,
All glories to Sri guru and gauranga
All glories to Srila Prabhupada
Please accept my humble obesiances
I completed my degree Master of Science in Electrical Engineering (Thesis based) at Tennessee Technological University and now applying for PhD. But I strongly give credit to Lord Krishna because I understand the ability of the man can be perceived as the presence of Lord Krishna especially for a devotee. So this is my introduction.
I have come in contact with Lord Krishna in the year 2004 in the most unexpected way. During that time, I completed my intermediate education and was quite depressed that I did not make into the IIT's inspite of taking a long term course. My mother elder cousin who is a devotee have seen me in a distressed stage and told to me that "Today is Jagannath Ratha Yatra and come with me and pull the rath. This can change your mood." I was like ok. I really do not have any kind of  spiritual background  during that time.
So on the auspicious day of June 19th 2004 I pulled the holy rope of Jagganath Ratha Yatra conducted by ISKCON Hyderabad. Then a book distributer have approached me and asked whether I want any spiritual books or not, then when I looked at those books the first book that attracted my sight was a very small book written by His Grace Radheshyam Prabhu, The name of the book is "Life after death". I actually became very joyful because I always used to have this question in my mind. I bought 3 books on that day, those books are "Life after death", "Laws of Nature" and "Science of self realization". Then I got onto the bus and started reading the first line of Science of self realization which is speaking about the main aim of human life is to go back to Godhead. That actually relieved me to a large extent because I used to think studying in IIT is the life to be aspired of.
I started to read that book with great eagerness and I completed that book within a week. During this week I visited  ISKCON and bought chanting beads and bag and there was srimad bhagavatam saptha going on conducted by His Grace Gaur Gopal Prabhu, an ISKCON Chowpatty devotee and it is going on in Hindi. I am actually really weak in Hindi and asked the devotees, I am interested to listen this Shrimad Bhagavatam Saptha but I don't know Hindi, is there any possibility of having a translator. Then the devotees became joyful and arranged a translator and blessed me saying that "Even if you don't know Hindi, hearing the pure spiritual sound vibrations of Shrimad Bhagavatam can purify your heart and soul. May Lord Krishna increase your attraction towards him". For the first two days I took the help of the translator and on the 3rd day onwards I am able to understand Hindi and I could understand what he is saying.
My best experience during this Bhagavatam Saptha is that is the first time I participated in Harinaam Sankirtan.  I was chanting loudly attentively and I was getting tears from my eyes and I did not understand  why are they coming and thought for myself that probably Lord Krishna is washing away my previous sins I have commited and continued chanting. The same experience  was repeated when I started chanting during Narasimha Chaturdashi when the ISKCON president His Grace Vedantha Caitanya Prabhu was leading Harinaam Sankirtan.
I ultimately joined the bhakti Vriksha in ISKCON Hyderabad  and started to aspire to get intiation from His Holiness Radhanath Swami and was inspired by my counseller His Grace Radha Pramod Prabhu. I regularly used to listen His Grace Radheshyam Prabhu lectures and I practically worshipped him in devotion.
My realizations during all these years are as follows
You are not the cause of your activities; Lord Krishna within your heart is the one who ultimately takes the decision.
Surrendering to Lord Krishna means asking Lord Krishna to take control of your life and considering him to be your heart and soul.
We are kept in the 3 modes of material nature but Lord Krishna says if you surrender unto him we can attain his transcendental nature and also not be affected by the 3 modes of material nature just like him.
Our life will be interesting and our attraction towards Krishna will be ever increasing when we are able to see how the loving hand of Krishna behind every circumstance. It's like Lord Krishna is the director for our lives.
Your heart will become joyful in understanding the transcendental activities of Lord Krishna who mysteriously enacts human like pastimes during his descent.
Thank you very much for hearing my story of how I came to Krishna consciousness.
Your servant
Radha Shyamsundar Das