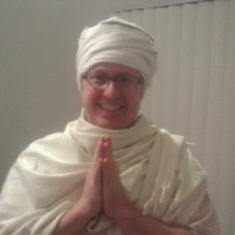 My first memory of the devotees was when I was about 9 years of age. I was a passenger in the family car, enroute from Coffs Harbour to Wauchope to spend Christmas with our grandparents and other relatives. As we passed through the main intersection of Coffs Harbour we could see the harinam party progressing through High Street. My elder brother wound down the window and proceeded to call out mocking innuendos. I looked on with amazement at a spectacle I'd never seen before. The year would have been 1977, and devotees were still a rarity, especially outside the major capital cities.
Fast forward a few years and I happened to be walking down that very same street when another harinam party was heading my way! This time one of the devotees handed me a flyer for the program that was being held while they were in town. Although I didn\'t attend, I had received a good dose of the holy name from the harinam. Years later, Ramai Swami confirmed that he was leading the kirtan that day.
From a very early age I had a strong tendency to question my existence and always maintained that there must be more to life than what I was observing whilst growing up. I just couldn\'t share the same enthusiasm for material life that my contemporaries had. Coupled with a few calamities dealt by the mercy of the Lord which acted as a good impetus, my quest for Truth continued.
During high school years I didn\'t have much of an idea of what kind of career I wanted to prepare for, so on the prompting of my parents, I chose to leave schooling at the age of 16 to pursue a trade apprenticeship as a boilermaker/welder. I soon realised that I was not suited to this vocation! This experience provoked more crying from the core of my heart for the Lord\'s intervention.
At the age of 18 I was sharing a house with a high school friend while his mother was travelling abroad. Brad and his girlfriend attended a Hare Krsna preaching program and came home with Prabhupada\'s books. Brad handed me one of them, and when I opened it and started reading I immediately understood that this is what I had been looking for. I was overwhelmed with gratitude for the gift of Prabhupada\'s books, and not a day that followed went by that I didn\'t read at least a few pages of the nectar of Prabhupada\'s words. I eagerly awaited the next preaching program. This time I was going to attend myself.
Needless to say, I soaked up as much mercy as possible at the next program, and went home with arms full of more books and enough prasadam to last me a week!
I didn't know it at the time, but Krsna was gradually bringing me closer to His lotus feet.
Just as I completed the trade apprenticeship, the company went into liquidation and let me go.
The year before, a high school friend had started a degree in contemporary music in Lismore, further north and not very far from the nearest ISKCON temple at New Govardhana, Murwillumbah. He convinced me to enrol as a mature age student to study music.
By Krsna\'s grace I was accepted and moved from my home town to the eclectic community of musicians and visual artists at Southern Cross University.
I soon discovered that the devotees held programs at an old church in Lismore that was owned by Jita Girish prabhu (acbsp) every Sunday night. At the time Jita Girish prabhu was residing in Vrindavan and had left the preaching centre in the care of the local devotees. Being a struggling student, I looked forward to my weekly dose of Krsna prasadam. Various devotees acted as guest speakers at the program, and I recall when Prabhavisnu Swami arrived at the centre with a harinam party preceding the program that day.
One day I was practising saxophone in the on-campus recording studio when I realised that despite such sophisticated musical equipment facilitating  vast creative expression, none of it came close to the deep satisfaction derived from chanting the holy names of the Lord.
I later moved from Lismore to a nice country setting near Possum Creek, just up the hill from Byron Bay where devotees also held a program every Wednesday night. Although I was becoming more and more instrospective and curious about various spiritual traditions, Prabhupada's books remained the measuring stick throughout. At last I became more serious about chanting the holy name and had been purified enough to awaken a profound appreciation of the potency of the maha-mantra. On this basis I decided that I should visit the temple for a weekend to see if I could commit myself wholeheartedly to bhakti-yoga. By this time, my spiritual yearning was outweighing my musical aspirations.
On one particular occasion, HH Janananda Goswami (then a brahmacari) was the speaker at the Byron Bay program. When I heard him speak I instantly thought that \'here is a very saintly person\'. This attracted me further to associate with devotees.
Come the end of my 2nd year of study my attraction to Krsna Consciousness was too great to ignore, and I decided to defer study and move to New Govardhana and the shelter of Sri Sri Radha-Govardhana-dhari. Srila Prabhupada ki jaya !