From Tours of Duty to Tours of Love
In search of some meaning In life, he tried the Army, but his search ended in an unexpected place.
IT WAS THE SUMMER of '86, and I had just graduated from high school and was eager to do something with my life, so I decided to enlist into the U.S. Army. I was unhappy, I wasn't sure what I wanted to do with my life, and it seemed like my friends were so focused. I didn't have big aspirations to go to college like them. I just wanted to know the purpose of life. I wanted to know why I was here.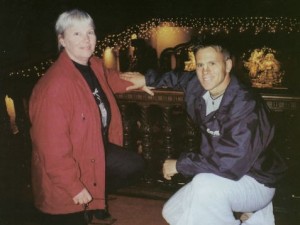 When I came home on leave, I met up with an old friend who always knew the up-and-coming bands in the punk/hardcore music scene. He handed me a record by the Cro-Mags entitled "The Age of Quarrel." I was intrigued by the title and asked him what the band was all about. I was shocked to learn that they were Hare Krishna devotees. They played aggressive music with a positive message, subtly promoting the science of self-realization. That appealed to me. Most bands with a good message tend to shove their beliefs down your throat, but these guys just said it the way it was and let you decide for yourself.
After some years had passed and I was out of the Army, I joined a well-established hardcore band. We soon signed a record deal, recorded an album, and toured Europe and the U.S.
Our label arranged for us to tour with the very same Cro-Mags who had intrigued me a few years before. The first show of the tour was in Dayton, Ohio, and I was really eager to ask them about the philosophy they followed. I approached the singer, Jayananda Dasa, and he took the time to speak to me about reincarnation, vegetarianism, karma, and living a clean life free of drugs and alcohol. I was astonished to find that the philosophy wasn't some dry, speculative religious process but was actually a scientific philosophy based on truths proven through logic and reason. He explained that we are not these bodies but spirit souls encased within the material body. That was an intense realization for me.
Our tour included New York City, and Jayananda took me to a small storefront temple there. When I walked in I felt an amazing warmth come over me. I heard Prabhupada singing on the CD player, and I smelled the most amazing incense I've ever smelled. A friendly devotee offered me a cup of sweet-rice and asked me to sit down and relax. As I looked around, I saw people in the temple with a glow about them that portrayed true happiness. I could tell they were living for a higher purpose than I was.
After that tour I began to meet devotees in my hometown (Cleveland, Ohio). I slowly started to follow the rules of Krishna consciousness. The girl I was dating thought I was crazy to give up meat-eating and disliked my new way of life. She wanted to get married and gave me an ultimatum: "It's either Krishna or me." A few weeks later, I found myself helping her pack her bags.
Two years went by, and I was now a full-time devotee chanting sixteen rounds on my beads and following the four rules. I quit the band I was playing in to form a band with devotees. I wanted to spread Krishna consciousness through the hardcore/straight-edge music scene. I recalled how I'd felt when I'd first read the lyrics in the Cro-Mags album. I, too, wanted to write songs about self-realization.
We called the band Raja-Vidya ("The King of Knowledge"), but nobody in the magazines or club scene could spell it or pronounce it, so we decided to keep it simple and changed the name to Run Devil Run. We felt that name was synonymous with our spirit of "fighting evil."
In my former band I had always felt I was killing myself to get ahead in the music industry; this time I committed myself to accepting what Krishna was giving us. Within weeks of forming the band, we signed with a European record label and were asked to tour Europe for four weeks. The tour went well, and we distributed many of Srila Prabhupada's books at our shows. We were happy to serve Krishna in our occupation, and we got to see a lot of ISKCON's European temples.
When that tour ended, we were asked to tour Europe two more times to play festivals and do a short headlining tour. I began to realize that Krishna was making this all possible because we were trying to serve him according to our inclinations. I began to correspond with many people from Europe and the U.S. about Krishna consciousness. I had never realized how many people feel the same emptiness that ran through me in my youth.
Run Devil Run performed at the world-renowned Dynamo Open-Air Festival in Eindhoven, Holland, in May 1999. The festival draws eighty thousand people. It was a great opportunity to spread the message of Krishna consciousness.
After these tours, I felt I might hang it up. I had just gotten married and was accepted into the laborers union in Cleveland. As a band, we discussed our future and decided to record one more album and see how it went. Just after recording our second record, it was picked up by Victory Records and was set to be released in the U.S. and Canada. Victory is the biggest label in the world for our style of music. They released such Krishnacore bands as Shelter, Baby Gopal, and Cause For Alarm.
We have decided to just let Krishna call the shots in this band. He has provided us with excellent arrangements for service. We are now touring in the U.S. and are slated to go back to Europe. I hope that through Srila Prabhupada's books we can inspire everyone we come into contact with to inquire about the purpose of life and make a positive change.
Dayal-Nitai Dasa is a disciple of His Holiness Satsvarupa Dasa Goswami.