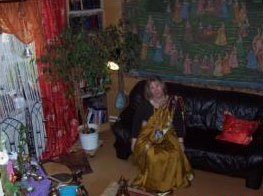 How I came to Krishna Consciousness
I was 12 years old. My mother and I were shopping in Hanover, Germany, looking in shop windows on Georgstrasse. Just then, a big group of Hare Krishnas in saffron robes came out of a little lane, singing and dancing!  I looked and looked and couldn't get enough of this scene!
My mother looked too, and let me stare a while, then she said we had to go. In my heart I was walking and dancing with the Vaishnavas. I remember this like it was yesterday… it will always be fresh in my mind.
My mum had a record of the musical Hair. I was allowed to play it whenever I wanted.  So we often played it when we were cleaning our apartment together and I have been singing the Hare Krishna Maha Mantra since I was 12 years old…. ha-ha I haven't forgotten it!
Now, I must tell you that I am a sensitive person. I have been able to see and hear Jesus Christ since I was 5 years old. I have healing hands and people come to me at home to receive healing from the Lord! It's not me healing them, always the Lord; it's important you know that!
So it came about that I was in a second-hand book shop. I saw the books Krishna I and II and Srimad Bhagavatam First Canto… I didn't want buy them, but Jesus said to me, "Buy this!" It was HIS wish and so I bought the books… and I read them and right from the start I was definitely hooked! I was hooked on Srila Prabhupada's books!  I could have the next book, the Teachings of Kunti, from the second hand shop too… hahaha!  It must have been Krishna, laying all the books there for me.
After reading the books I got the wish to chant. So I made my first Jappa-Mala with simple wooden pearls myself. And I began to chant! I made Jappa-Malas for my friends and got them all to chant… ha-ha!In Deutsch, auf Seiten 11-124
I began to search for the Hare Krishna Vaishnavas and I couldn't find them. I called all the phone-numbers, but they were out of date. It was terrible….
After 2 years I had a second major operation on my back. I had titanium in it now and started to walk again. It was a difficult time. So I crossed the floor in the hospital in a frame with books.  I could only stand and couldn't stoop or anything… like a zombie Okay… so I stayed in the frame and directly in front of my eyes stood ?????"
The Biography of Srila Prabhupada" !!! W O W !!!   And best of all, I could take it home with me! I love this book so much – it's a must-have!
Okay, so I went onto the Internet at Christmas 2008. And my first step on the Internet was to look on eBay for George Harrison's music. I knew he was a Hare Krishna and so I hoped I could get some Hare Krishna music … so I took so many steps around the jungle of eBay – up a bit, down a bit, left a bit, right a bit – but I got lost and couldn't find any, then suddenly I spied with my big eyes:
THE CD from the RADHA-KRISHNA TEMPLE!!! W O W !!! THIS was exactly what I had been looking for!!!! It was called: "The Goddess of Fortune" I bought this and was so happy… my heart was jumping and dancing all at once…  Ha… and I thought, the seller can tell me where to find the other cantos of Srimad Bhagavatam and so I wrote to him:
"Haribol my friend… please can you tell me…. and … and … and …and…."
Best of all, this seller is now my very very best friend ever!  We are in touch daily, and he teaches me SO MUCH!  I have learned so much from him; he is my mentor too, like a Shiksa Guru a bit for me.  We send messages, mail and call each other on Skype.
Ha-ha!  He taught me to chant correctly: previously I had been doing it wrongly as I had made my Japa myself and began to chant. He has so much patience with me.  I am so glad he is there!
So I feel I am a very fortunate person.
There isn't a temple nearby, so I regularly attend the online Jappa-Group in London via Mayapur TV.