My Dear Friend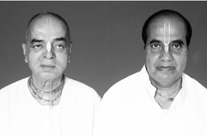 Care and affection of a friend during difficulty
brings the author to the shelter of Lord Krishna.
Dr. Hiranandani's words poured into my ears like molten lead. "You cannot work in a noisy place." My mind turned blank. My recent job at the engineering die-maker tools factory was my only source of livelihood—and it was a very noisy place! That was in 1978. I was 37, too old to learn a new trade.
A few years back I had dreamt of earning a lot of money and had purchased a big plot of land. Destiny was with me, and I was brimming with confidence. Slowly, however, strange changes in my body rocked my stable world.
Spells of dizziness, nausea, vomiting began, often ending in complete black-outs causing me to fall on the road. I fell two or three times on the railway platform, many times even passing stool. Some good samaritans would pick me and bring me to my house. I stopped venturing out alone. My left ear could not hear, and when I shut my eyes I lost balance. Nobody could diagnose my ailment. All that the doctors would give me were sedatives with clear instructions to my wife to wake me up in the morning for breakfast and in the afternoon for lunch. I would sleep for 40 hours at a stretch; it felt nice.
Then came the diagnosis: vertigo in my left ear. One of the blood vessels of the ear had been blocked and the tissue it supplied was almost dead. A swelling appeared in my left ear and then began a ringing noise that went on non-stop for 24 hours.
My business was completed disrupted. At the same time, I was almost going crazy with all the complications. I just could not figure out what to do. Gradually, I sold my belongings and was reduced to almost a beggar; odd jobs sustained my family. At this stage in my life, my friend, Mohan Shetty, offered me invaluable assistance, which I cannot repay in this lifetime. Some debts cannot be paid off, but only remembered with gratitude for the remainder of life.
1992: I had my swelling removed by operation. At the same time, Mohan Shetty came in contact with ISKCON and became convinced by Srila Prabhupada's teachings. He asked me to attend an introductory course for beginners. But I was in a terrible situation and felt that changing my life at this age was impractical. I told him that I would visit sometime later. During that time he organized his son Nikhil's birthday party at the ISKCON temple. He invited me very lovingly insisting that I attend. I just could not refuse my dear friend Mohan. Here I was, my life being sustained by consuming pills and I was attending a birthday party. That was my first visit to Sri Sri Radha Gopinatha Mandir.
Unfortunately I did not get a glimpse of Their Lordships, but I thought little of it. That day for the first time I tasted prasada and was completely satiated. With it the seed of harinama was planted in my heart. After that, Mohan began requesting me to chant. He told me the importance of chanting. But what could I do? I was in a hurry and kept putting off chanting the holy names of the Lord. I whimsically visited the temple once in a while and attended His Holiness Radhanatha Swami's class on Sunday. It watered the seed of harinama that was planted in my heart. I began to chant on my fingers.
One Sunday, Radhanatha Swami was walking in the temple courtyard when I was talking with Mohan. Radhanatha Swami came near and Mohan told him that I enjoyed chanting japa. Radhanatha Swami clasped my hands and that was the moment when my life changed. That touch was full of love, devotion, compassion, support, and confidence all together.
Camp of Love
During that time a few devotees were leaving for Pandharpur to organize a medical camp to serve the pilgrims on the occasion of Asadha Ekadasi. It is a huge gathering of hundreds of thousands. Mohan suggested that I volunteer for the camp. That made very good sense to me and the next day I confirmed my participation also deciding to take my wife with me. We were supposed to dispense medicines to the pilgrims who walk barefoot for days covering many miles. I had heard about wari before, but I never had experienced it. I thought it would be a nice way to take a peek into this world.
Our bus left Mumbai for Pandharpur. Dr. Dvarakadhisa Dasa was our bus leader. Mohan accompanied us to the bus stand as we did not know anyone on the trip. He introduced me to three or four devotees. They graciously welcomed us with a broad smile, and I could only say "Hare Krishna" to them. When the bus started, we were asked to chant. Everyone had their beads and they all started chanting. Both of us were left looking at each other. At that time one of the devotees told us that we could chant on our fingers and he demonstrated the technique to us. So we also joined the devotees in chanting. This was our first experience of chanting for a long stretch of time.
The bus was moving at a good pace as there was hardly any traffic. After about an hour the bus halted at a place where water was available and everyone was served prasada. After honoring prasada, the bus again started and at about 5 pm we were nearing Shetat. There was a huge assembly of varkaris at Shetat and our pace was reduced to an ant's crawl.  The palanquins of saints from different corners of Maharashtra had gathered there. Every one was loudly chanting "Rama Krishna Hari" and proceeding systematically in groups  called dindi. I had never seen such a procession. All devotees offered their obeisances with utmost respect. The brahmacaris recited stories about Saint Tukarama and other saints.
In Pandharpur, we were put up at Kale Hospital. That night, we had our first meeting to discuss the various aspects of the medical camp. Everyone was allotted services and were encouraged to do their services enthusiastically and promptly even if it was a menial service like cleaning toilets. I was appointed to serve in the darsana-mandapa.
The services in the darsana-mandapa started ordinarily. The mandapa was a four-storey building  and we had a temporary clinic on every floor which was manned by one doctor along with two devotees. Sri Krishna Caitanya Dasa had printed 10,000 pamphlets of Krishna conscious philosophy. He kept a huge lot of these copies with me and I would offer one copy to each varkari and then offer them my respectful humble obeisances. Services were continuing round the clock and everyone would be relieved after every six hours of service. However, I was so absorbed with my service that I remained busy throughout the day. Some varkaris asked me about the cost of the pamphlet. I jokingly told them to inquire about it from Lord Panduranga. One elderly varkari just kept staring at me and offered me his obeisances. I told him to offer his obeisances to Lord Panduranga. All the elderly Vaisnavas had immense faith in Lord Panduranga and they considered Him as their parent. Seeing their devotion, I was deeply moved.
NEW STEPS IN LIFE
On my return I met the famous ENT surgeon, Dr. Bhatt. He said the kind of surgery I required was a very delicate procedure. "I am ready for anything so long as it can cure me," I said. Difficult as this option was, I had no other recourse, and I had already spent many years tolerating this disease. Finally the date for the surgery was set. It was a very difficult surgery. On day three after operation, my nose started bleeding and the doctors put me on oxygen. I was scared. Along with my relatives and other friends, came Mohan. He told me that if I was feeling better then I should chant Hare Krishna maha-mantra. He constantly kept advising me to chant. He was my true friend. He did everything possible for me so that I would not feel troubled.
After the operation the giddiness stopped, but I still could not work in the engineering workshop. With passing age came other complications. Till date I have had 14 operations including four majors for hernia and prostate. Devotees helped me in all ways.
When I was operated on for prostate, I was admitted for 21 days in Bhaktivedanta hospital. With my urinary bag in one hand and Bhagavad Gita in another, I went from patient to patient in every ward, convinced well-wishers who came to see me, and distributed more than 350 books to them.
Nowadays I distribute books, make tilaka boxes for devotees, run a preaching center in my house, and conduct a weekly program there. I volunteer and assist in medical camps in Pandharpur and Barsana, where I also distribute Srila Prabhupada's books. I also went with the sankirtana bus party for many years.
Whatever Mohan did for me is incomparable. If he hadn't been a part of my life then my life would have been spoilt. Today Dr. Dvarakadhisa Dasa is my counselor and doctor. He and his good wife are just like my mother and father. My wife Ananda Bhakti Devi Dasi has been a pillar of support during my troubled times. All the loving brahmacaris are like my children and I have willed my house to ISKCON.
Abhinandana Dasa is a leading book distributor in ISKCON Mumbai for many years.
The original article was written in Marathi and translated into English by Radha Dyuti Dasa and Dr. Sagar Tupe.